Platinum /plat-i-num/: highest medal awarded in the PNW!
The Wine Press Northwest Platinum Judging is the Super Bowl of Northwest wine competitions. Held at the end of each year, wines qualify for The Platinum Judging by earning a gold medal in a reputable regional, national or international wine competition during the yearlong run-up. It is an honor for a wine to even be invited to the Platinum Judging.
At the Platinum Judging, leading wine professionals gather for the intense task of blind tasting through a delicious lineup to determine which wines are deserving of the coveted PLATINUM award. Over the course of several days, the judges observe, smell, and sip their way through these highly rated wines. Each wine is awarded based on a majority vote by the panel of judges. Wines can be awarded Gold, Double Gold, or Platinum medals. Occasionally, there will be a unanimous vote for Platinum, which will dub the wine a Double Platinum recipient.
Clearwater Canyon Cellars surpassed our own hopes this year at the 2020 Platinum Judging. After being named Pacific Northwest Winery of the Year we felt the weight of high expectations. Of the 12 wines we entered, 8 received a Platinum! Of those 8 Platinums, 5 were awarded Double Platinum. This colossal achievement of 5 Double Platinums has only been attained by one other winery (Maryhill Winery) in the 21 years of the competition! Since earning our first Platinum in 2013 we have accumulated 25 Platinum and Double Platinum awards.
Clearwater Canyon Cellars is now tied on 'The Platinum Judging All-Time Leader Board' as the 7th most Platinum awarded winery in the Pacific Northwest (WA, OR, ID & BC). We believe that this success is a reflection of love (within our team and for our growers), hard work and an endless curiosity to discover exiting wines unique to each passing vintage.
With 25 Platinums, Coco has been dubbed "Queen of the Platinum" by Wine Press Northwest! Coco has edged her way up the 'All-Time Leader Board' to being the most Platinum decorated female winemaker in the Pacific Northwest! While she may wear many hats at the winery, a sparkly tiara may be the last one you'll find her donning.
Below are the amazing reviews Eric Degerman (Wine Press Northwest and Great Northwest Wine) wrote on each of our platinum wines following the competition. These reviews were published as part of the full competition results and commentary found at www.winepressnw.com.
2017 Phinny Hill Vineyard Carmenère – DOUBLE PLATINUM (sold out)
"It's rather rare, but this is not the first time for the same wine to win a Platinum in consecutive years. Last year, winemaker Coco Umiker earned a single Platinum for this reflection of the 2017 vintage from the Beightol family's vineyard in the Horse Heaven Hills. That wine has improved, exemplified by this high-ranking unanimous Platinum — a Double Platinum. It's rich and elegant with wild dark berries, baking spice, sage, a pop of pepper and the variety's herbal undertones. There's no real sense for the Umikers to enter their 2017 Carm into a 2021 competition, but if they do, don't bet against it qualifying for a third straight Platinum Judging next fall. (447 cases, 14.5%) Awards: 2019 San Francisco International (gold)." ~Eric Degerman – Wine Press Northwest and Great Northwest Wine
2017 Malbec – DOUBLE PLATINUM (sold out)
"For the second straight year, Lewis-Clark Valley winemaker Coco Umiker scored a Platinum for Malbec, and this is her blending of Verhey Vineyard and Roosevelt Ridge fruit — both sites owned by the Verhey family. Once again, it's deep, dark and delicious with plum, cocoa powder, sweet spices and a hint of Jolly Rancher grape candy in the full and round finish that's brilliantly balanced. (232 cases, 14.8% alc.) Awards: San Francisco Chronicle (double gold), Savor NW Wine Awards (double gold)." ~Eric Degerman – Wine Press Northwest and Great Northwest Wine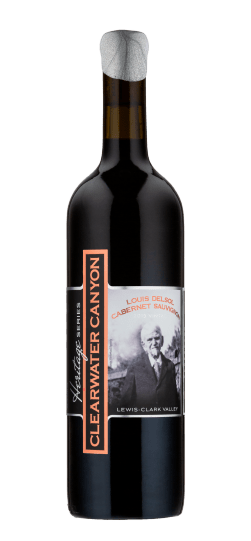 2016 Heritage Series Louis Delsol Cabernet Sauvignon, Lewis-Clark Valley – DOUBLE PLATINUM (sold out)
"The Umikers enjoy serving as ambassadors for the historic Lewis-Clark Valley and take special pride in blending two vineyards not their own — Arnett and Rock n' J — into a Cab that wins gold medals. In this case, it won a double Platinum. Their barrel program of 30% new American oak for 22 months develops chai spice notes, but the wood still allows for varietal markers such as green herbs and black cherry. On the palate, it's fruit-driven and beveled as black cherry picks up and carries along cassis, blackberry and blueberry into a smooth and long finish. It was best of class at the 2019 Idaho Wine Competition, but that's not how it earned its way into the 2020 Platinum. (211 cases, 14.8% alc.) Award: Dan Berger International Wine Competition, 2019 (gold)." ~Eric Degerman – Wine Press Northwest and Great Northwest Wine
2017 Coco's Reserve Selway – DOUBLE PLATINUM (still available for purchase)
"Like clockwork, Coco Umiker brings back a Platinum every other year for her Selway project, a trend that began in 2016. This time, it went double Platinum. Carménère (45%) leads the blend for the first time in the history of Selway, followed by Petite Sirah (28%) and Malbec (16%) as a trio of Washington vineyards — Phinny Hill, Roosevelt Ridge and Verhey — are brought together in the bottle. Those who can't get enough Carm will fall for this profile of green peppercorns and blue fruit that's remarkably deep and completely delicious with a finish of sweet plum, Herbes de Provence and blood orange. (137 cases, 14.4% alc.) Award: Idaho Wine Competition (gold)." ~Eric Degerman – Wine Press Northwest and Great Northwest Wine
2019 Crawford Vineyard Albariño – DOUBLE PLATINUM (sold out)
"Of the 25 Platinums now awarded to winemaker Coco Umiker, this is the Idaho vintner's first for a white wine, and it was a unanimous vote for Platinum. Her vineyard visits to the Crawford family in the Yakima Valley near Prosser paid off with this bright expression of the Spanish grape. While lemons dominate the aromas and the flavor, mixed in also are fresh apricot, lychee and a slice of Key lime pie. It's brilliantly fruity yet succulent and uplifting. One judge notes, "This is the kind of wine I want to drink a lot of." (186 cases, 14.5% alc.) Award: Great Northwest Invitational Wine Competition (gold)." ~Eric Degerman – Wine Press Northwest and Great Northwest Wine
2018 Phinny Hill Vineyard Carmenère – PLATINUM (still available for purchase)
"The Umikers' remarkable run of Platinum winners began in 2013 with a Carménère from the Horse Heaven Hills. This marks the seventh time they've won a Platinum with the "lost Bordeaux" variety, and each has been with Phinny Hill Vineyard, farmed by their longtime friend Dick Beightol and his family. The fandom for this wine is immense, and Carm now trails only the Ren Red for overall production at Clearwater Canyon. Despite its youthfulness, it's already rich and round with dark and spicy red fruit, and there's the herbal thumbprint of green peppercorns and bell pepper, backed by a stunning brightness of acidity. The CCC 2017 Carm went Platinum in 2019 and Double Platinum this year, and there's no reason to believe those won't be even better a year from now. (510 cases, 14.7% alc.) Award: Cascadia International Wine Competition (Best red), Great Northwest Invitational Wine Competition (gold)." ~Eric Degerman – Wine Press Northwest and Great Northwest Wine
2018 Roosevelt Ridge Vineyard Coco's Reserve Petite Sirah – PLATINUM (still available for purchase)
"The Platinum has become a platform for the successful versatility of Coco Umiker's winemaking, and while she might be best known for her work with Carménère, Cabernet Sauvignon and proprietary blends, this is her third Platinum for the brawny Rhône grape known in the U.S. as Petite Sirah. In the glass, it's visually striking with its inkiness. Descriptors run the gamut from plum to blueberry to blackberry, yet there are savory aspects with green olive and green bean. The spiciness, density and fruity profile give this product of the Horse Heaven Hills remarkable complexity and an ideal foil for barbecued meats. (142 cases, 15.6% alc.) Award: Idaho Wine Competition (gold)." ~Eric Degerman – Wine Press Northwest and Great Northwest Wine
2017 Renaissance Red, Lewis-Clark Valley – PLATINUM (sold out)
"Two years in a row, the Umikers have mined a Platinum for the flagship wine they named in tribute to the Lewis-Clark Valley's return to a thriving industry that the temperance movement annihilated in 1920. Once more, Malbec (28%) from local vineyards leads this blend with Cabernet Franc (27%), Syrah (26%), Cabernet Sauvignon (13%) and Merlot. There's an Old World sensibility to its profile of blackberry and cassis, which gathers up a hint of herbaceousness and iron shavings on the way out with boysenberry acidity. (695 cases, 14.5% alc.) Awards: Finger Lakes International Wine Competition (gold), SavorNW Wine Awards (gold)." ~Eric Degerman – Wine Press Northwest and Great Northwest Wine